Bruce Willis and his daughter Tallulah were pictured in a sweet embrace as they posed in the playful photos the 28-year-old actress shared on Instagram.
The 67-year-old actor was seen wrapping his arms around Tallulah and making funny faces for the camera in two of the nine photos she posted on Thursday.
"High drama club ~~ life skills ~~ fingers crossed I'm eating veggies this week LMAO," the "Bandits" star wrote in the caption.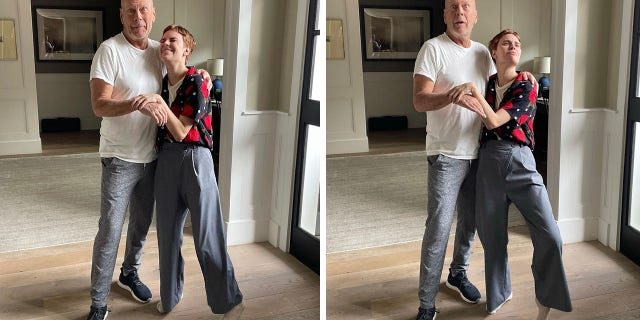 Bruce was casually dressed in a white t-shirt, gray sweatpants and black sneakers. Tallulah wore a short-sleeved black and white polka dot shirt decorated with red roses over a white shirt with high-waisted gray pants and tiny socks.
BRUCE WILLIS' WIFE EMMA PUBLISHES A TRASH CLIP WHEN FELL 'HEAD IN LOVE' WITH HUSBAND
Both photos showed the "Die Hard" star holding his hand out while Tallulah held his wrist. In the first photo, she was seen resting her head on her father's shoulder while laughing. The father-daughter duo made dramatic faces as Tallulah pointed her toe in the second snap.
The two-time Emmy winner shares Tallulah and daughters Rumer, 34, and Scout, 31, with ex-wife Demi Moore, 60, who he was married to from 1987 to 2000. He is also father to daughters Mabel, 10, and Evelyn, 8, who shares with his wife Emma Heming Willis (44).
Emma and Bruce have a close relationship with Moore and have been quarantined with their families, including all five Willis daughters, during the COVID-19 pandemic.
The actor has largely stayed out of the limelight since it was revealed that he was retiring from acting last March.
Emma, ​​Moore and their daughters announced in a joint statement that Bruce quit acting after being diagnosed with aphasia, a disorder that affects a person's ability to express and understand written and verbal language.
"We wanted to share that our beloved Bruce was he has some health problems and was recently diagnosed with aphasia, which affects his cognitive abilities. As a result, and with great consideration, Bruce is stepping down from a career that has meant so much to him," the statement said.
"We're going through this as a strong family unit, and we wanted to bring his fans because we know how much he means to you, as much as you mean to him. As Bruce always says, 'live it up,' and together we plan to do just that."
CLICK HERE TO SUBSCRIBE TO THE ENTERTAINMENT NEWSLETTER
However, "The Sixth Sense" star appeared in photos that members of his blended family shared on social media. On December 7, Tallulah shared a picture of herself holding her beloved dog, Pilaf, while hugging her mother as Bruce looked on at the chihuahua.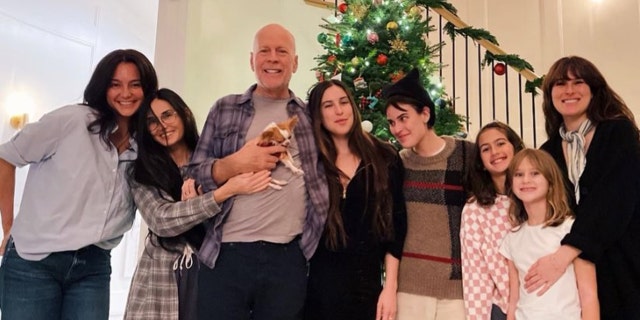 "The laser beam communication between Pilaf and Pap is amazing," Tallulah wrote in the caption, with a smiley face covering her mouth and a smiley face surrounded by hearts.
"I love my parents and my family – I do, I do, I do!" she added.
December 13 Moore shares a family photo in which she was shown with Willis, Emma and their children.
"We are a FAMILY! Getting into the holiday spirit!" the "Ghost" actress wrote in the caption.
CLICK HERE TO GET THE FOX NEWS APP